Baltimore's first Homebrew Website Club of April met at the Digital Harbor Foundation Tech Center on April 10th

Here are some notes from the "broadcast" portion of the meetup:
martymcgui.re – Demoed an as-yet-unnamed (maybe: kapowski) "GIF Reaction" Micropub client. It's currently available on Glitch. It supports IndieAuth, searching for GIFs via the GIPHY API, then posting those as the "photo" property in a Micropub form-encoded request. It also supports in-reply-to functionality, putting the "reaction" into "GIF Reaction", though there's no UI for that, yet. He made an example reply post, but Jonathan's post doesn't seem to support photo replies. 🤔 Also fixed up some metacrap for his podcast site so sharing looks better on Facebook and Twitter.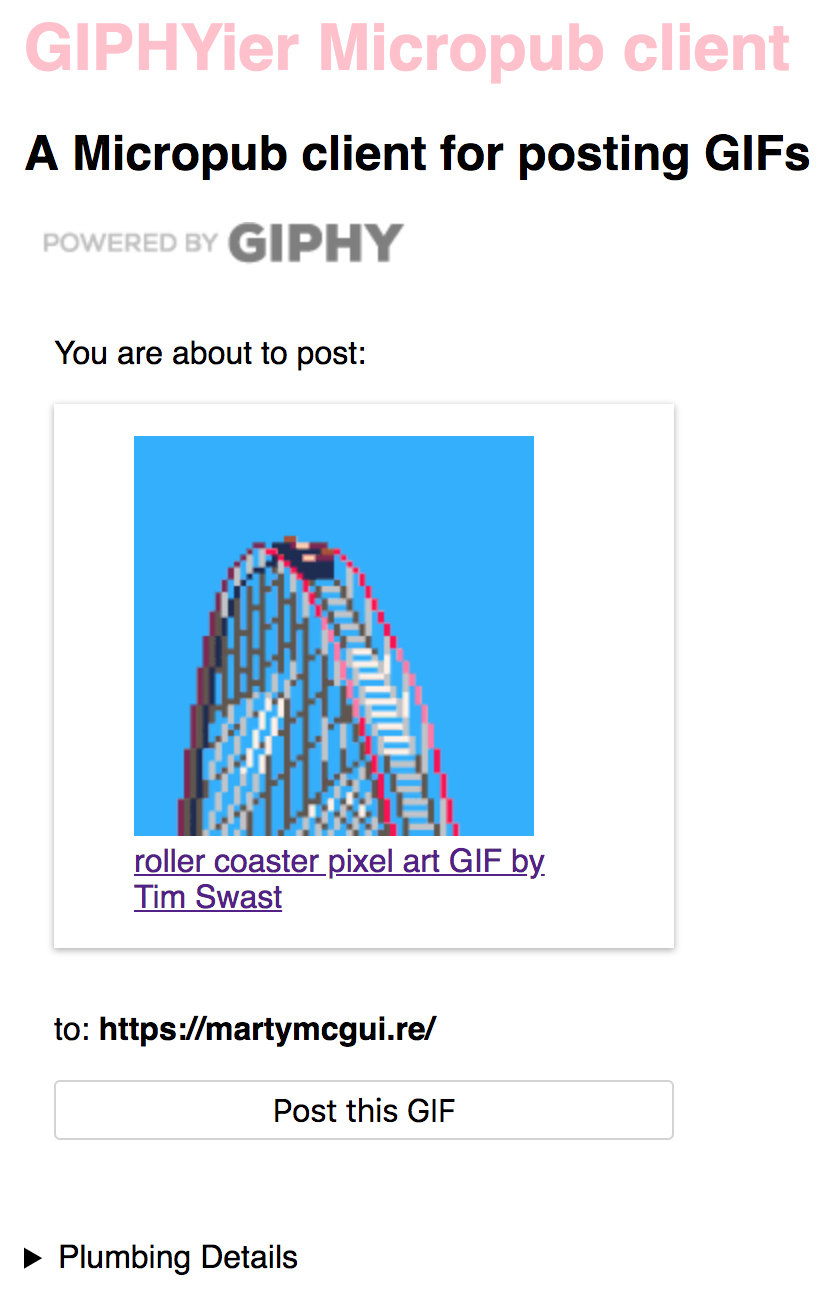 rhearamakrishnan.com – Working on a redesign of her site. Making good use of view-source on sites that she likes for inspiration. Working on a mixed media art project with post cards that direct you to a website that contains coordinates to a geo cache containing an actual letter.

jonathanprozzi.net – Been doing lots of work stuff that overlaps with personal web interests. Working on his wedding page. It's now up on Netlify and uses their form collection for RSVPs.
Other discussion:
The new Killer Queen 5 vs 5 arcade game recently installed in Baltimore at Holy Frijoles.

Baltimore zine culture (apparently Atomic Books considers carrying local zines).
Twine for creating interactive poetry and fiction. It outputs a bunch of HTML and CSS (and maybe JS) that can be hosted anywhere.
The Netlify static site model of separating content management, storage, layout and rendering, and file hosting.
The difficulty in evaluating "frameworks" like React and Vue based on their low-level merits. Looking at community and availability of higher-level components might help more.
Thanks to everybody who came out! We hope to see you all again at our next meeting!