IndieWeb NYC's meetup for April 2020 (also virtual Homebrew Website Club US East, met on Zoom from 6pm - 8pm EDT on April 15th. It was mostly NYC folks, with one joining briefly from Portland!
Here are some notes from the meeting!
jmac.org — writing about webmentions on fogknife.com. Learned a lot about them through sending a "strange" RSVP to an event at events.indieweb.org. The RSVP was a longer post, which also included an RSVP inside it. events.indieweb.org treated the post as both an RSVP and a blog post about the event. Jason enjoyed learning about moderating webmentions through that experience! He also accidentally reposted a bunch of links to IndieNews because his site moved from http to https, and those are "new links". Eek!
aaronpk.com — had some time between giving a workshop and speaking at allthetalks.online. can now post photos from his Nintendo Switch to his website by making a new Twitter account that is just for posts from his Switch, then setting up a cron task to pull and post new tweets to special tags on his site, like the #ACNH tag for posts from Animal Crossing New Horizons.

david.shanske.com — now a member of NOAA's Citizen Weather Observing Program (CWOP)! Making him an official weather source. Working on a large project of archiving IndieWeb event videos from YouTube to archive.org. Hopes to find interested in re-watching some older IndieWebCamp videos to reconstruct notes that were lost when Mozilla recently shut down their Etherpad instance.
martymcgui.re — Still posting one cat GIF per day during the COVID-19 shutdown in NYC. Recently started work on a "consolidated watch later" list using IndieWeb building blocks - mostly with microsub channels in Aperture as a queuing mechanism.
Other topics of discussion.
Home studios! aaronpk has a very nice setup with multiple cameras, switchers, and great lighting. Marty has some parts on order so he can use a DLSR as a webcam. GWG has a nice set up also!
Personal "this is how I IndieWeb" pages might be useful for helping on-board developers, since each is a personal setup and won't immediately be considered "expert advice". For example, Marty's page on the IndieWeb wiki. Starts at a very high level and adds more detail the further you read.
More open tests for Webmentions (beyond the strictly-plumbing webmention.rocks)
Sourcing home supplies in this time of lockdown. GWG recommends bidets.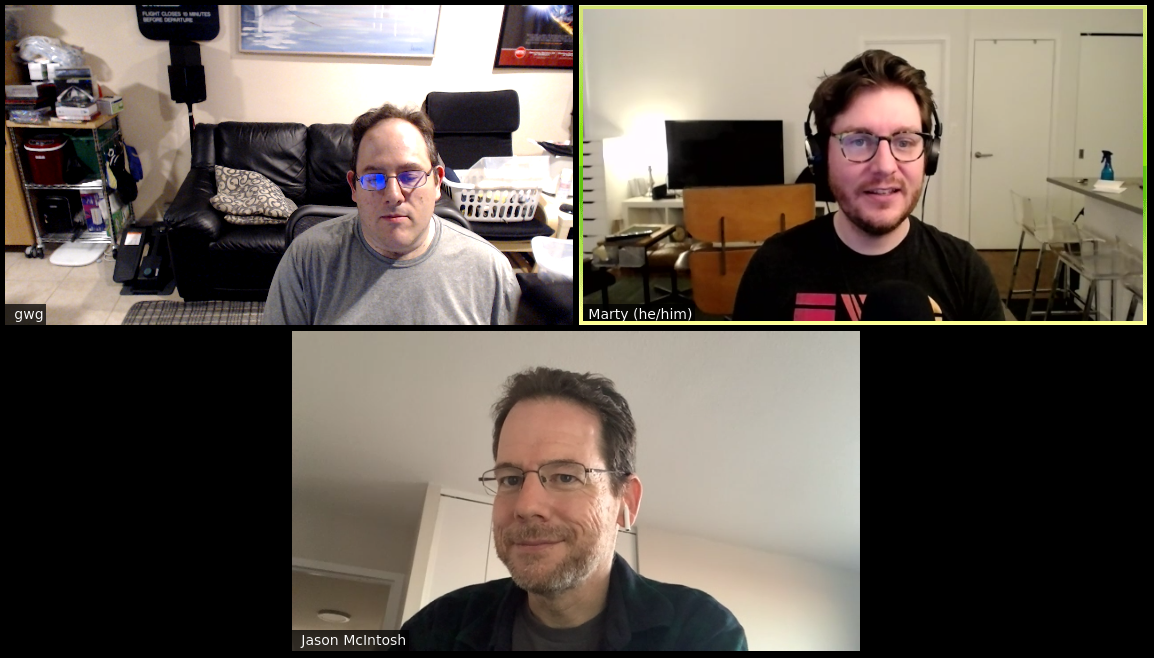 Thanks to all who joined us! We will see you all again at our next IndieWeb NYC (aka vHWC US East) meetup online on May 20th! Keep an eye on indieweb.nyc or events.indieweb.org/tag/nyc for the exact date, time, and online location!
---