IndieWeb NYC's meetup for March 2020, which was also Virtual Homebrew Website Club US East, met on Zoom from 6pm - 8pm EDT. Folks joined us from New York, Connecticut, San Diego, San Francisco, Los Angeles, Toronto, London, and Berlin!

Here are some notes from the meeting!
gRegorLove.com — gRegor is calling in from San Diego! Was at the recent IWC Austin. Currently working on updating site the header across his site to make it more responsive and now to be more consistent across his pages. He's also been playing w/ typography and vertical rhythm. More notes on that below!
martymcgui.re — Marty has not worked much on IndieWeb projects recently. Currently doing an Eternal Caturday project, posting one animated cat GIF per day while staying home and "social distancing".

svenknebel.de — Sven joins from Germany (where he is up late). Slowly getting back into IndieWeb projects via text files he wrote sometime around 2018. Looking over items labelled "really need to be done at some point".
cheuk.dev — Cheuk joins from London (and is also up late). Co-organized the IndieWebCamp London online event last weekend and learned a lot. Working on adding more IndieWeb building blocks to her site.
tiaramiller.com — Tiara is working on un-breaking how she updates her website. Also working with a Long Island Women in Tech group, helping make a sign-up page to automate invites to their community Slack. Her jobs is still making her go to work in person rather than work from home!
dmitri.shuralyov.com — Dmitri is currently joining from Canada! Worked on his website last weekend. Wants his iteration speed to be faster than industry change, but that wasn't true for the issue tracker that he runs on his site. It has a public API that he doesn't want to break for other people. Now forking that feature to his own site so he can make changes.
david.shanske.com — David remote participated in IWC London and has a lot of new projects! Currently working on making the links on the top of his site match those at the bottom.
tantek.com — Tantek is staying in under a shelter-in-place order in SF! His work is very virtual already, but he is now seeing almost no humans. Most recent site update was adding a recent photos grid to the sidebar on his site's front page during IWC Austin. Still posting (positive) photos every day!
mfgriffin.com — Matt maybe broke his indieauth/relmeauth setup for the IndieWeb wiki? Looking to fix that so he can go through his TODO list there. Wants to pick something to finish during this meetup!
jmac.org — Also fogknife.com. Jason is in NYC now and helping organize IndieWeb events. Learned of IndieWeb ~2 years ago, specifically interested in webmention. So much so that he wrote a Perl module for it! Builds his own CMS Plerd and wants to add webmention to it this summer in a way that other folks might be able to use. So far he has something like a clone of webmention.io that works as a command line utility.
jgregorymcverry.com — Greg had a productive IWC London. Added CSS subgrid (now supported in Firefox) to the article cards on his site. Also added fluffy's webmention.js to his article pages so his site now displays webmentions! He thought it would be harder. Spending his time now making lots of videos and posting them as he tries to make tutorials for teachers who must now teach online. Recently added bittorrent links to his videos because they're eating up a lot of bandwidth on his shared host.
boffosocko.com — Chris joins us from LA! Been working on a TiddlyWiki for his own site. He is interested in using it as a Commonplace Book, taking notes on all sorts of things, and wants to add proper microformats2 and webmention support so his wiki can interact with those of others!
Drew — Joins us from Connecticut (and often attends HWCs organized by jgregorymcverry.com). Drew is a preschool teacher and is working on his district's website. Also working on mcweeneyaquaticconsulting.com and demoed some of the layout features he's been working on.
Other topics of discussion:
Vertical rhythm and typography! gRegor has been learning about it for his site and found several interesting resources:
A philosophical question: what are our websites? Replacements for ourselves?

Ben Werdmüller used to have a voice-controllable bot on his website that answered questions about him. It seems to be gone now?
Would a historian be able to understand "who you were" by your website alone?

Storing webmentions! Jason is working on a new project that "would work for no one else but works for me". It was inspired by some brainstorming by Tantek and others on the IndieWeb wiki.
How do all the IndieWeb bridges work for IRC, Slack, Matrix, etc? IRC is Freenode, the web and Slack bridges are community projects maintained by Aaron Parecki, Matrix.org runs a Freenode bridge for Matrix users, the Discord bridge is maintained by another community member.
EXIF metadata - there are a lot of incompatible versions of it with a lot of special-case handling!

Is Kicks Condor okay? We are pretty sure the answer is yes. We definitely want him to continue work on Fraidycat!
Demos!

Jason showed the storage folders and format (UUID folder names with "webmentions.json" files). Previously these were serialized Perl objects!
Dmitri showed his latest issue tracker.
Marty showed his Eternal Caturday feed, and demoed a test page for David showing location info on a post extracted from a photograph's EXIF metadata.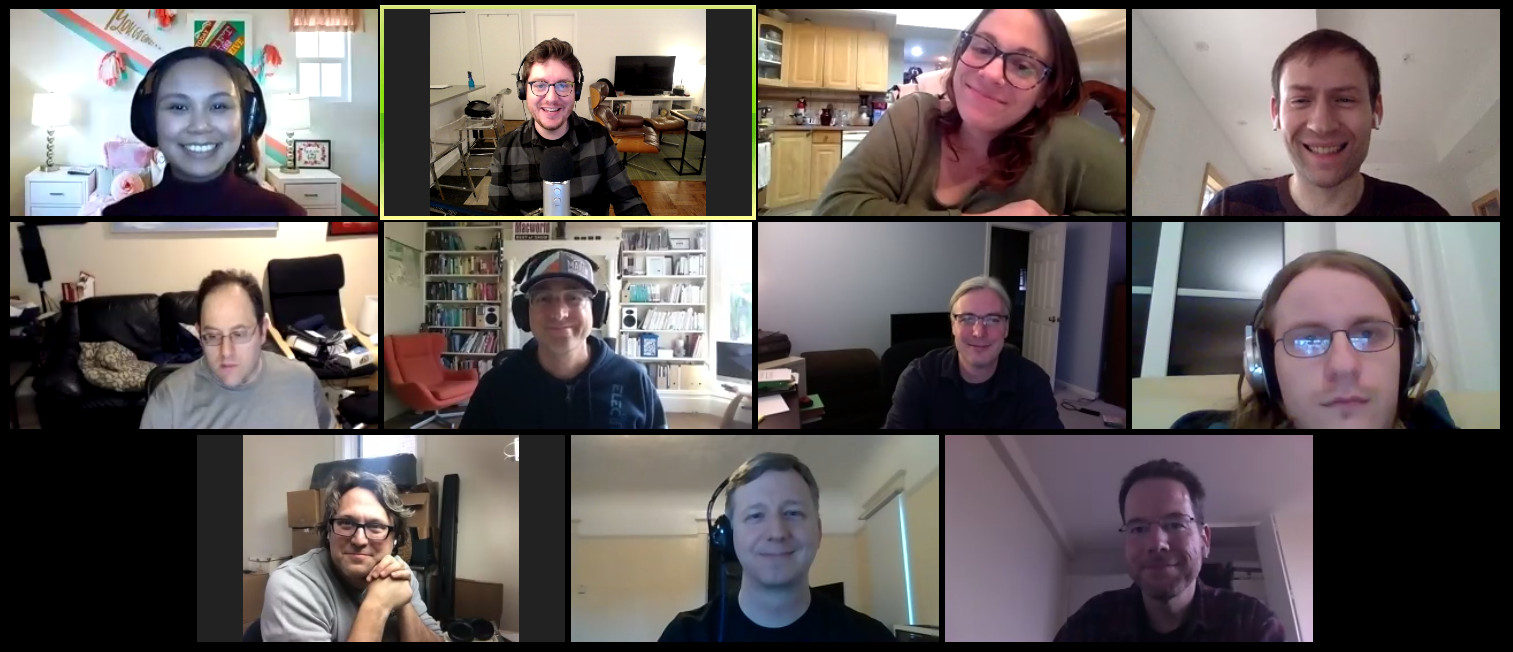 Thanks to all who joined us out! We will see you all again at our next IndieWeb NYC (aka vHWC US East) meetup online on April 15th! Keep an eye on indieweb.nyc or events.indieweb.org/tag/nyc for the exact date, time, and online location!
---
Mentions