IndieWeb NYC's meetup for February 2020 met at Think Coffee on Mercer St on January 25th around 2pm.
Here are some notes from the meeting!
jmac.org — Is now in NYC for the foreseeable! Looking forward to more IndieWeb events in NYC. Put up a "Now" page in December, and ended up chatting with the person who recently started the trend of making Now pages. Has been dusting off his Perl modules like Web::Mention and Web::Microformats. Also has some publisher interest and a draft outline for an introductory book on Webmention!
dmitri.shuralyov.com — Has wrapped up his work on building IndieAuth into his site so that other folks can log in using their own domain as their identity. He's now getting back to making improvements to his Go projects issue tracker. The first step there is to pull his projects off the public version of his issue tracker into a new private one so he can iterate on it quickly without affecting other users. He's also been playing with various databases available to Go and is leaning towards not worrying about selecting one now. Instead: keep content in memory and don't let your server process die. 😂
filippo.io — First time at an IndieWeb event! His day job is security for the Go language project. At the meetup tonight he added links to his site to enable RelMeAuth, which let him log into Dmitri's website using his own website as his identity!
aaronparecki.com — Spent lots of time getting his new open source events service Meetable in shape to be as easy as possible to install. He built configuration wizards to help walk through the setup process on shared hosting, and automated away even more of the work when you launch it on Heroku! Aaron also recently updated his /photos to include captions when you hover over them. This helps them show up correctly on micro.blog so he can be part of the February photo challenge. Aaron also showed off SIMTRACKER — a WiFi e-Ink badge he's been working on that pulls an automatically-generated image off his website to summarize his recent activity, including food, drink, sleep, time away from home, phone battery, and more. Oh, and he published a new book 😏.
martymcgui.re — Not a lot of work on his own site, but recently built a single-use "random job placement" website for a friend who is launching a book about an absurd journey through temporary work. Marty complained that the work he did on indieweb.nyc was largely made obsolete by Aaron's excellent Meetable project — folks can follow IndieWeb Events in NYC on events.indieweb.org/tag/nyc/. He has hopes to continue working on the project site, eventually getting live updates from Meetable. At the meeting Marty set up a copy of Meetable with Aaron's help, largely to test out the setup workflow, but maybe to post improv shows... Marty also wants to improve, document, and encourage folks to build on the Microsub-powered photo frame he built on an Adafruit PyPortal so long ago, particularly how he got the low-powered touchscreen device to work with IndieAuth through an IndieAuth Device Flow Proxy.
Other topics of discussion:
!!con (Bang Bang Con) is happening May 9th-10th in NYC. The call for proposals for 10 minute lightning talks is open! Proposing a talk means you're guaranteed a ticket to the event!
We may try new venues for IndieWeb NYC meetups, including Columbia University (near Broadway and 125th St) and the Ability Project at NYU (Brooklyn near MetroTech).
Filippo doesn't like JSON Web Tokens, publicly, because they are too easy to configure insecurely. Aaron warns that they are getting baked deep into a new draft of some OAuth spec. 😬
Some discussion was had about verifying two-way links between your homepage and your silo account for RelMeAuth. When making indielogin.com, Aaron decided to verify that the silo account links back after the user has logged in to their account — primarily because using the silo's API is so much more reliable than trying to scrape their silo profile information.
Is This Week in the IndieWeb Audio Edition coming back? Not right now, but Marty reminds everyone that he documented in detail how he summarized the newsletter content into a podcast script each week. Reading all the updates and making the summaries is the most time-consuming part of making the podcast. Perhaps some tooling and collaborators could make this process more incremental as new articles, events, and wiki content appear?
Aaron walked Marty through the process of setting up a new instance of Meetable on Heroku and it went pretty dang smoothly, though there was one server error speedbump. There's already a GitHub issue for it.
Maybe Aaron will work on making IndieLogin easy to self-host, soon??
Aaron recently experienced a weird bug with yellow streaking in low-light photos on his iPhone. Searching around indicated that other people had experienced the same thing ... and that it went away with the latest software update. Strange errors in HDR processing? It's weird that cameras are computers.
Everybody loves WireGuard as a magic-feeling VPN tunnel thing. Aaron recently got it working on his home network without running the WireGuard software on his router(s). He plans to write this up soon!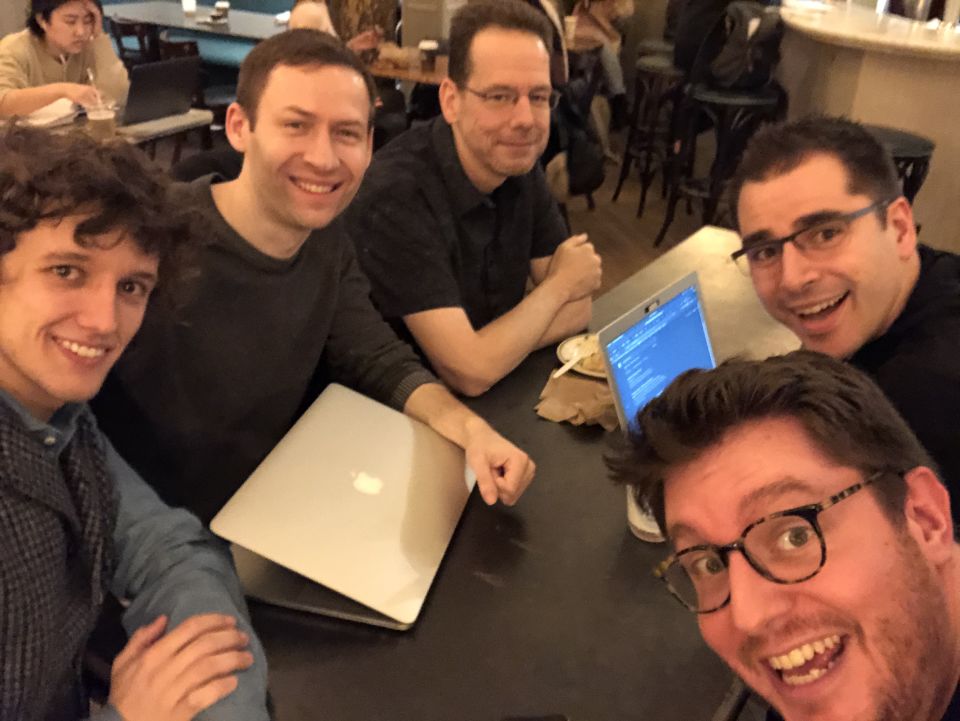 Thanks to all who came out! We will see you all again in March! Keep an eye on indieweb.nyc for the exact date, time, and location! You can subscribe to the calendar there to receive automatic updates!
---
Likes