Baltimore's final Homebrew Website Club meet up of 2016 happened at the Digital Harbor Foundation Tech Center on 12/14/2016. We had a nice quiet writing hour followed by discussion and demos!
Notes from the "broadcast" portion of the meetup:
Jonathan Prozzi (co-organizer) - Completed 2017-01-01 commitments of h-feed and h-entry markup. Working on webmentions setup. Also figuring out separate post types (e.g. status vs articles). Also settled on a permalink and taxonomy structure. Documenting process of making an indieweb-compatible Hugo theme. Added self to /hugo.

Jean-Carlos Cedré - Has an older website. Wants to revisit it and get portfolio pieces on there. Might want to move off of Wordpress.
Marty McGuire (co-organizer) - Completed image-related 2017-01-01 commitments. Needs to write up some new ones. Working on owning his own events. Event posts with photos now get a nice Facebook-inspired poster look to them. Added upcoming events section to home page. Wants to add RSVPs to that list. Also working on a new micropub client for creating and RSVPing to events. Discussion led to the name suggestion "Slater".

Adam Bouhmad - been focusing on classwork, Docker, GitHub issues. In 2017 wants to get back to working on a malware collection site, starting with a UI design.

Here's the customary HWC group selfie: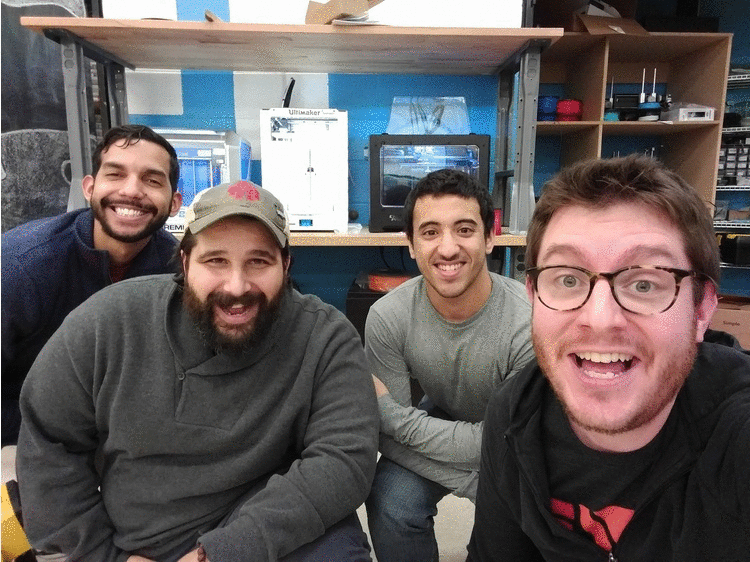 We also took the time to tune in with the Virtual HWC meetup. Sorry to all the folks in quiet time that had to listen to us have our social time. :}
We are excited about the turnout and the discussions at HWC Baltimore so far! We hope you'll join us for the first HWC Baltimore of 2017 on 1/25!
---